Ms. MegaMounds vs Officer Juggs milking contest
Rate Ms. MegaMounds vs Officer Juggs milking contest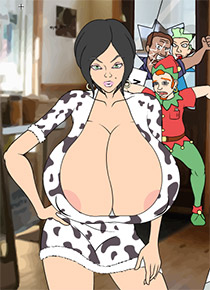 An all out extreme milking competition between these two gigantic udders, with very hungry milking machines, classic kinky Cow costumes, anal pounding, pussy pounding and of course breast expansion cause you can never be to big.
And the hostesses of this event is the one and only Bakka and his Mother with her gigantic milk filled tits. They drug them bring them to a warehouse and Bakka sets up the stage for the contest, where the men also pay to fuck the ladies holes as they are being milked by the machines.
Bakkas mom, force feeds ms. Megamounds and Officer Juggs her milk to shut them up of their screams as the men giant cocks destroys there holes, as Bakka fucks his mom up the ass vigorously.
Bakka also ejects the ladies with the breast expansion syrum as there being sodomized. The ladies udders expand, and swell as breast milk increases, as Bakkas mom pulls her nipples from their mouths to here then scream out in agony as their tits bloat and throb in pain. Bakkas mom is laughing at them historically as cum oozes from her butthole.
Bakka with a sinster smile injects his mom with the last syringe, milk explodes from her nipples. Bakka binds her arms behind her back and gags her, then some guys from the competition come over and insert their gigantic cocks into her nipples. Bakkas mom screams as her nipples are penetrated. Ms. Mega mounds and Officer Juggs get turned on by this sight a start producing more milk than the machines can handle.
The winner is ms. Mega mounds and Officer Juggs gets angry and jealous starts squeezes the milk out her big swollen nipples they stumble to the ground, Bakka see an opportunity and fucks Officer Juggs from behind. Officer Juggs swollen nipple finds ms. Mega mounds mouth. As milk slides down ms. Mega mounds face and onto the ground as her tit leaks the pressure of those two on top make her tits leak and squirt milk with every thrust.
Bakka fucks Officer Juggs ass and pussy in doggystle and fucks ms Mega mounds ass and pussy missionary style. Meanwhile Bakkas mom gets dped and also takes a double anal penetration, Bakkas mom has the gag removed and all three ladies get on their knees as their udders lactate and take the biggest bakkake facial ever. Ms. Mega mounds and Officer Juggs look at Bakkas mom and smile and tell her we still want more cum.
They grab Bakkas mom tits lift them up as her arms are still bind behind her back, the ladies proceed to suck the cum and milk right out of her gigantic throbbing nipples. And Bakka gives a big thumbs up to a excellent competition. Both Ms. Mega mounds and Officer Juggs shoves their arms deep into Bakkas mom massive nipples and smile at the camera END